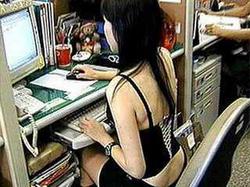 Perhaps in an effort to get their 500 women employees more excited for the work week, a Taiwanese company did away with "casual Fridays" and went straight to camis and panties Wednesday. The company, Audrey Underwear, wanted to celebrate record sales of a new line of camisoles by asking its employees to come to work in nothing but knickers.

"We have been waiting for this day all month. Today, we are super high, and don't know where to put our eyes," salesman Cai Mingda told Straits News. More than 90% of female workers reportedly went along with the spirit of the day and worked in their underwear."

With all the palpable excitement, the firm made a monthly day to look forward to getting laced up. If only America could take after Audrey Underwear, single women would be able to ensure their imported and expensive lingerie would garner at least a few looks. For the self-employed, we'll be celebrating in style from the comfort of our home office.