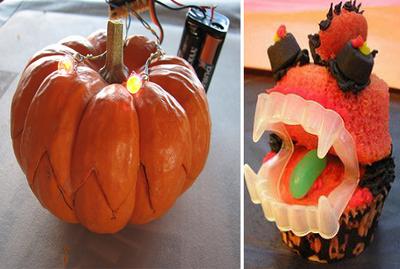 Getting ready for Halloween requires more than a pair of fishnets to freeze the rest of the night in. Many are making the evening memorable with a variety of morbid recipes.

Perhaps among the most interesting, the Robotic Snap-O-Lantern was at the recent Maker Faire featuring pumpkin robots (I'm coining the term "geekins"). With a couple of Duracells, the Snap-O-Lantern turns on to be quite the deadly squash.

Craftzine and Slashfood are spookifying your sweets with Spider Cakes and Punk Glow-in-the-Dark Cupcakes.

If Snap-O-Lanterns and sweets aren't enough to satiate, Suicide Girls tackles the unstoppable sexy costume scene. Seemingly, sexy-anything costumes are the ultimate undead.