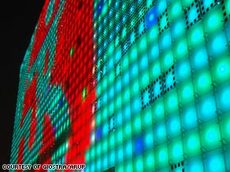 Called the Zero Energy Media Wall, this glass structure has embedded photovoltaic cells that operate off of solar energy.

"Rather than placing them uniformly, the cells are arranged in changing densities which allows for more natural light to reach the interior, as well as converting excessive solar radiation into energy thus increasing the building's performance."
The wall claims to be one of the largest LED displays in the world and officially launched to the public in June 2008.