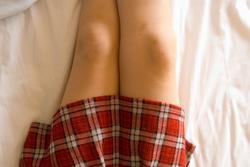 A "sex ring" operated by young Japanese school girls was recently uncovered by decoding their use of txtshorthand. The girls were apparently selling sex to older men via mobile transactions.

"Take this piece of seemingly benign code, for example:
IkebLURV1700Yukichi2JC1
Ikeb = Ikebukuro. The neighborhood that the girl is in.
LURV = "I will have sex with you."
1700 = Time: 5PM

Yukichi2 = Yukichi Fukuzawa, the guy whose face is on the 10,000 yen note x 2 = I cost 20,000 yen
JC = Joshi Chugakusei (Junior high school girl. JS would be elementary school girl, JK would be high school girl)
1 = Grade 1. In Japan, 1st year of junior high = 7th grade. "

Unfortunately(?), this may make for a valid reason for parents to enforce no texting at the dinner table.