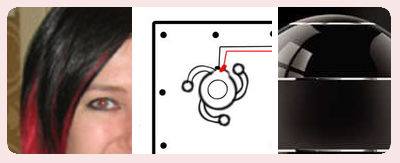 Each week, Ariel Waldman serves a tasting of the latest in sex and tech.

Non-Booth-Babe Babes Battle for CES Floor Space
Apparently I won the best summary of the CES news for twittering "CES effectively splooged all over my Google Reader" this week. Thankfully, Gizmodo gives something for us to effectively splooge over: non-booth-babe babes at this year's CES. Captured in pixels, "Videographer Richard Blakeley and noted letch Nick McGlynn went out and snapped some pics of some of the real babes of CES". The Gawker site of course failed to mention their competition: the geek girl of CES, Veronica Belmont.

Bed Speakers Make Your Lonely Bed into a Boombox
A new "technology" aims to drown out the sound of your sobbing in a lonely bed with dropping a few beats. The Slip Sonic Impact's BM101 speaker panel slips between your mattress and box spring to help vibrate your emptiness away without the need for a dishwasher afterwards. Turning your box spring into a boombox, the system will run you about $200-$400. Gadget Lab reports that in addition to basement dwellers, they'll be marketing the product to pregnant women.

Luxury Intimate Toys Attempt to be Inoffensive
Adult toys take many shapes and forms. Trying to make sex with yourself a little more stylish, the B3 collection designed sleek and less-than-obvious shapes for sensual fun. From the Tuyo orb to the Onya pill, the toys are meant to pleasure the eyes as much as all the other enjoyable places.