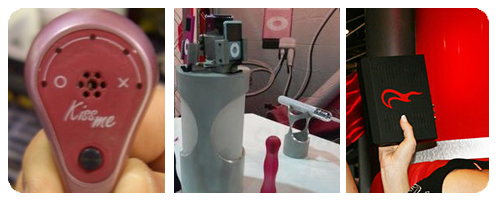 Each week, Ariel Waldman serves a tasting of the latest in sex and tech.

Kiss-Me Meter Measures Make-Out-Worthiness
Catching up on the CES craziness from last week, we're surprised this one didn't make it into Engadget's Crapgadget edition. The Kiss-me Meter is designed to measure the make-out-worthiness of your breath and thus advise on whether you should make a move or start gargling some serious mouth wash. By blowing into the gizmo, an LED indicator shows where you stand. If we saw someone using this, we would make sure we stood far away.

OhMiBod Compatible With iPhone, No Word On Macbook Air
OhMiBod should've held off from announcements for another week, as only a few days ago it was boasting iPhone compatibility. No word yet on if the line of vibrators plans to sync up with the new Macbook Air. We're guessing that the serious lack in audio quality in the Macbook Air may make for some not-so-hot vibrations.

Unlimited HD Porn That Doesn't Hit Your Wallet
Another CES find that aimed to target those who had wandered over from AVN was FyreTV. FyreTV is a black box of porn that delivers a punch. With an ethernet connection, the black box delivers around 20,000 different porn titles. The service costs about $10 a month, which is fairly cheap, but doesn't compare to the fact that you can still get a lot for free. Unfortunately, we wouldn't give it a great rating simply for the fact that it's streaming, rather than stored. Seeing a buffering notice in the middle of a scene may make for an instant FAIL.