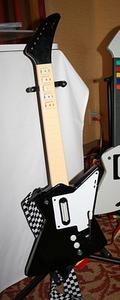 The title doesn't have too much of a ring to it, but guitar gamers everywhere are already singing praises for the new Rock Band plus Guitar Hero mashup controller. Finally, one controller to rule toggling between your two favorite ways of rocking out.

"Rather than wait for Harmonix and Activision to sort out the whole Rock Band/Guitar Hero/PS3 guitar incompatability fiasco, [Nyko has] gone ahead and released their own guitar, one that avoids the whole mess and gives PS3 owners a single peripheral that'll work on both games."

Called the Front Man, the controller is set to rock your world in March.