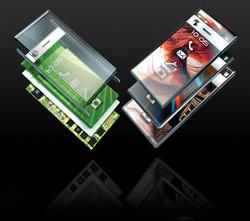 A new mobile concept called P-Per offers a reach-around to the iPhone-famous touchscreen. By using minimal parts, the potential phone offers sustainability.

"The design consists of just 4 layers, a printed circuit board, extruded polycarbonate, recycled titanium, and a wrap around flexible haptic LED touchscreen."

Textually says the design would satiate tech nerds, but we have to politely disagree. The mobile industry should be tapping into those that feel left out from the need for breakable screens and texting typos. Though we may be trading style for bulk, tactile QWERTY keyboards are a must for the true "tech nerds" who text under the table.