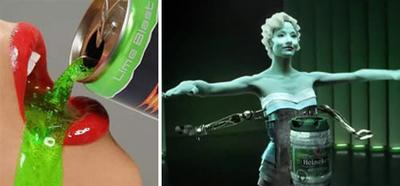 Trendhunter rounds up the "16 Brands of Drinks Using Sex to Make You Thirsty". From Pimp Juice to Monster Energy, to a you've-got-to-be-joking energy drink called Who's Your Daddy?, the list covers off on quite a few. The 16 sex-obsessed still leave out a few notables, though. Most recently, Heineken's "Draughtkeg" commercial left a misogynistic taste in some viewers' mouths, while others creamed their pants over a cyborg-like, beer-dispensing, techno-dancing, short-shorts-wearing woman.

AdAge jokes, "The perfect woman: a mute nymphomaniac whose father owns a brewery." However, AdAge adds that the joke "manages to [not] trivialize the essence of femininity quite as egregiously as Heineken. And why don't they?

Because they don't portray a woman's uterus as a beer keg."