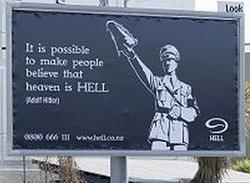 In so obviously a shot at shock advertising, a New Zealand pizza chain successfully crossed the line. Named Hell, the chain stated that they did not set out to offend anyone with their sieg heil to pizza, despite large community complaints.

"We thought that people would be able to see a funny side to a guy doing a 'sieg heil' salute with a piece of pizza in his hand," stated Kirk MacGibbon of Cinderella advertising agency.

Apparently, this wasn't the first controversial ad from Hell, as they had mailed out condoms a year prior to promote their "Lust" pizza. After 685 complaints, you'd think they'd stop their Crispin-Porter-wannabe antics.