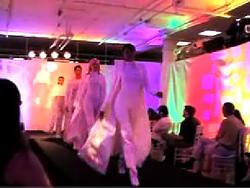 With white Matrix-esque cloaks and pastel lighting, Dell put on a fashion show to put out a new line of laptops. Alex Goldberg attended on behalf of Consumerist (video):

"We hypothesize the fete was conceptually tied to Dell's new line of Insprions which come in different colors, meaning that Dell has finally caught up to Apple, circa 1998."

The runway MC seems as if she can't hold back from laughing at the entire event much longer. Oh, where is Tim Gunn when we need him? Dell is so not making it work.