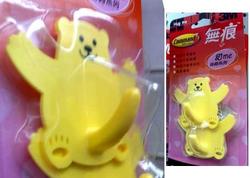 [A weekly link post of skipped over (and slightly stale) sights and stories]

Wall hooks are hung. [Thanks, Greer!]

JetBlue employees look for suga mommas in leftover credit cards.

Goodby Silverstein & Partners create an interactive mural for the launch of Adobe CS3.

"The All-Sounds Catch Cubic Pillow is a sound-absorbing headrest that diverts all ambient sound directly to your ear, in case you're too lazy to undertake the strenuous effort of pushing the "Volume-up" arrow on the remote control."

Richard Branson pushes more puns with Flick Off, a campaign about conservation.