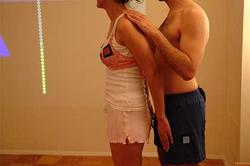 Intimate interaction is no longer reserved for avatars and vibrators. Jennifer Chowdhury introduces a new way to be playful with your partner's privates by placing game controllers in intimate apparel. The Intimate Game Controllers were created in attempt to bring gamers and girlfriends together in a touch-sensitive way. Chowdhury's research began with a bra padded for Pong, where groping a right or left breast controlled the game.

"The woman's controller is a bra with 6 sensors. The man's controller has 6 sensors as well but in a pair of shorts. Man stands being woman and each has access to others sensors."

Wmmna also directs us to the similar Pong Dress, aimed to "dissolute the boundaries between body and screen." Here's hoping your boyfriend doesn't treat your cleavage controllers like a game of Whac-A-Mole.