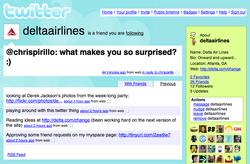 Love or hate Twitter, it is easy to see how it's a valuable resource for real-time brand monitoring. Thousands of users simultaneously (and quite candidly) expressing their good and bad interactions with brands, products, and services. Companies should consider it a virtual focus group of sorts... Only, instead of locking housewives in a room for an hour and feeding them cookies and $50, this is an actively engaged, un-prompted group of thousands.

Perhaps one of the most commonly mentioned categories of brands on Twitter are airlines. Often times you find yourself stuck in an airport with nothing but a phone as your connection to the world. Luckily, Twitter is always available to listen to you vent. This was the case with me about a month ago, when I experienced the most horrid treatment by United/US Airways and "live-twittered" my absolute disgust with them:

-I cant remember the last time i was on a flight that wasnt delayed. Not cool.
-Twitter is my only friend to vent to when im stuck in annoying airport lines.
-Brands should monitor twitter for real time feedback. Us airways would know how much i hate them now.
-I am seriously on the verge of crying. My flight was bumped again due to them accidentally not booking it correctly.
-Then I was yelled at by a United employee for saying it was booked last night even though I kept trying to reassure him I wasn't mad at him
-United and US Airways, go fuck yourselves, seriously... If you make your customer on the verge of crying when she's trying to calm YOU down
-United: "This was booked on a computer, are you familiar with the unreliability of computers?"
- Me: "I work with computers, and no, that's not a valid excuse" Airlines should not be allowed to make the same bullshit excuses as Kinko's.

Anyway, back to Delta. I applaud them for making this brave move (if it is in fact them - Twitter is also known for a ton of fake humor accounts). You can see how easy it is to vent about brands on Twitter, as I don't normally talk about myself on SWBU, but felt compelled to discuss this. It's good to know someone is listening and open to interacting in a medium that is known for constant airline complaints. Other brands should take notice - even if they're too hesitant to participate, they should utilize it as a free form of active listening.