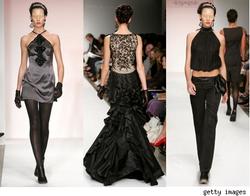 Seemingly a literal translation of the ghost in the shell, the latest look at LA Fashion week is haunting haute couture. Joseph Domingo's latest collection for Fall 2007 took artistic license with the concept of expression-less models.

"He taped the models eyes shut with nude masks so that they looked like they didn't have any eyes. It's still unclear to me if the models's eyes were actually closed, but I think everyone was just waiting for one of them to veer off the runway right into the audience."

While claiming a fashion is for the visually-impaired is typically taken as an insult, Domingo welcomes it. Whether insightful or an eyesore, the spectacle certainly grabbed more than just the audience's eyes.