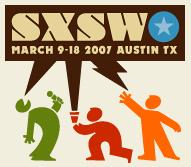 Yes, I'll be taking to the streets of Austin this week for SXSW. From the looks of it, I should be in good company with a blogasm of sights and people to be seen, heard, and perhaps felt, if we're lucky. I'll also be covering SXSW events and panels for Adrants, so stay tuned for that. Rex at Fimoculous has a great quote on the upcoming debauchery: "Imagine rock stars competing with dot-commers for throwing the best parties. Their weapons are drugs. Then, without any rationale, you'll walk into a room with Will Wheaton, Will Wright, and Will Farrell. ('Was that George Will?'). It's nutty like that."

As always, feel free to drop me a line if you'll be in the vicinity.

In other news: Shedwa's Six published an interview of me today, check it out. Great ongoing interview series.