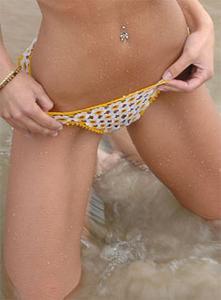 Send this one over to Craft:. A gaggle of women nested in the mountains of Poland mean business. Pulling up their panties sleeves, the women went to work on a new position for their traditional hand-made lace. Apparently not making headway with dolls and doilies, the lacy ladies began crafting hand-made thongs.

Fleshbot reports, "the women of the tiny mountain village of Koniakow [have banded] together to produce fine lace panties, bras and swimsuits that are decorative, sexy, and—of course—mostly see-through. The company is taking off, too, ensuring that this 200-year-old tradition of crafting will live on, even if it's under other people's clothes."

It's always a warm feeling to know that dozens of fingers have precariously perused your panties before putting a pair on each morning.