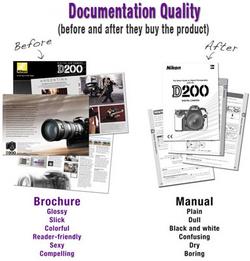 Kathy Sierra talks about how most companies are never in the mood, leaving you to finish yourself off in the shower. She references the secret to any good marriage is to not change, stating that passionate, sex-craving and caring person shouldn't become the bored, bothered, and overly-serious.

"I don't understand this in personal relationships, and I don't understand it in business-to-customer relationships. Shouldn't you treat the people you're in a relationship with better than you treat anyone else? Shouldn't you treat your existing customers better than the ones who've given you nothing?"

Kathy points to examples, including the amount of effort that is put into making great designs for brochures and the lack of care put into product manuals. While information design is certainly not the same as designing a poster, the gap does not need to be as big of a leap as it currently is. Companies need to come join us in the shower. It'll be a delightful surprise that both parties will be sure to appreciate, as we can offer to scrub off those old skin cells and shame.