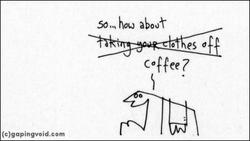 (Image courtesy of the similarly dirty minded Hugh Macleod)

What: Kansas City Coffee Morning


When: Tomorrow, February 2, 2007 @ 7:30am (yes, you can come bitch about how early it is with us)

Where: JP's Wine Bar @ 1526 Walnut

Why: Russell Davies started it in London, which then spread to Key West, Eugene, Bangkok, Scandinavia, Chicago, Brighton, Sheffield, Bucharest, Portland, Dallas, Toronto, Kansas City, NYC, and Sydney. American Copywriter started it in KC.

Who: Me, you, and unspoken sexual tension. Just kidding about the last part, unless you aren't.

Any questions? We even have a FAQ page for it.