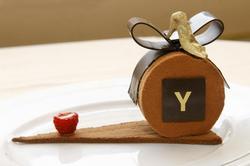 Guilty pleasures and passions take out teases and live for lust. Mixing business with pleasure, a Parisian fashion designer by the name of Gaspard Yurkievich created the death-by-design 'Cream Passionel'.

"...a fifteen-euro affair that features dark chocolate mousse on chocolate cherry-flavored dough with ginger raspberry coulis, and topped with the gold-dusted initial of creator Gaspard Yurkievich."

The designer describes his creation as fetishistic, feminine, and frivolous; all 'délicieusement désuet' descriptions. While his name is not quite something that rolls off the tongue in a sexy, seductive way, he aims for your oral pleasure in alternative manners.