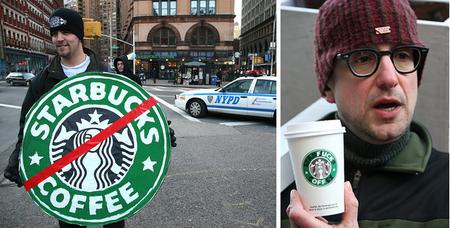 Refusing whipped cream, frilly toppings aren't the only thing that has these protestors steamed over Starbucks' $4 lattes. Laughing Squid caught the protest taking place in New York the other day. Apparently "Reverend Billy and the Church of Stop Shopping" invaded a local Starbucks to protest Starbucks opposition to Ethiopia's plan to trademark specialty coffee names. From the Rev's website:

"Let's dance and exorcise some cash registers! Confront Starbucks for stealing the trademarks of Ethiopia's ancient coffees, like Sidamo and Harar. Honor the destitute farmers by defeating the $4 latte!"

Hmm, something tells us that it'll take more than some "clever" crossing out of letters and logos to defeat the caramel coffee goodness.