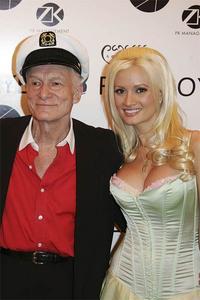 Apparently reflecting on the 'life and times' of Anna Nicole, Hugh Hefner wants to follow suit by marrying some young blond beaut (in all fairness, she's more of a beaut than ANS). Holly Madison may be the cosmetically-blushing bride, as it's rumored that out of the two other girlfriends that Hugh keeps around, she's the keeper.

"Hef has decided he will marry Holly, and he wants it for his show, 'The Girls Next Door.' Hef thinks business all the time, and looks for a new hook, although he also does really love Holly... Hef sees that she is the most dedicated. Kendra is never there, and they both hate each other, and Bridget is hanging on by being very friendly to Holly."

Tsk, tsk, Kendra, you should really be there for your boyfriend who's always there for everyone else. And Bridget, nice girls finish last no matter how orally skilled your partner may be.

The Superficial says, "[Holly] gets to marry a guy who's just, what, barely in his 120's? And has two other girlfriends? And looks like E.T.? It's like every little girl's dream come true. They should write fairy tales about her life."