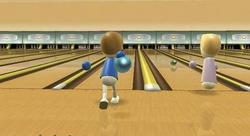 Feeling a lack of love lately, bowlers around the world may be hitting the lanes to help compensate. While three strikes probably won't be the only XXX's they see across a screen tonight, a new game is hoping to give some love back to the lanes.

Made for the Nintendo Wii, Brunswick Pro Bowling wants to "give gamers a detailed, realistic bowling-center experience, complete with authentic sights and sounds, and official Brunswick bowling gear. Brunswick Pro Bowling will be highly customizable, allowing players to choose everything from their character's appearance and accessories to ball styles."

Paired with realistic physics, your balls will have a weight and movement you can feel. True guttersluts prefer 3 fingers deep inside, but some pros may tell you that you can get the job done with just the tips.