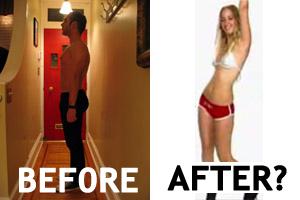 Or at least that's the hope for one blogger, trying to shed off the holiday flab. Blogging may be predicted as reaching its peak in 2007, but is not considered a sport as of yet. Video gaming, however, is currently picking up the slack in the "sport" arena. While video games are proven to raise your heart rate as you're mentally sending signals to your muscles, it's still a sedentary activity for the most part. Trying to close the gap, however, the Nintendo Wii eliminates hunching over a monitor and replaces it with embarassing, yet fun, physical movement.

To see how much a difference a day (or 45) makes, a blogger created the Wii Sports Experiment to track the benefits, if any, of using the Wii for 30 minutes a day. The results should be in sometime in mid-January. This might be a laugh to some, but hey, we all need our baby steps to meet those New Years resolutions. As he aptly put it, "time to start sweatin' to the fuckin' oldies".

Also, ICYMI, Wii and PS3 do the Apple spoof gig, too.