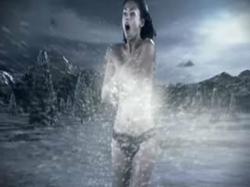 It's always sad when our precious minutes go unrewarded. Typically it's when we get tricked into an advertisement or we get caught one-handed with a shortage of increasingly revealing photos. Apparently wanting to shoot two birds with one stone, a British version of Axe body spray created an advergame involving a minimally dressed woman that you "blow on" to blow off her clothes. Yes, literally blow on.

"Lynx Blow doesn't have much of a setup, just a full screen video of a scantily clad woman in a barren winter landscape and an entreaty to blow into a microphone or headset "to make me hot." Indeed, constant blowing thaws out the woman and eventually blows her top off, at which point she runs off and you can start all over again."

Add to that, that you never actually see her naked and it's somewhat boring for any savvy one-handed browsers. Usually the Brits are known for their up-to-par sexual humor in advertising, but this one certainly falls short.