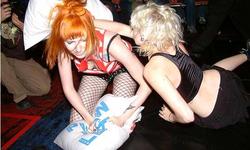 Violet Blue points us to the ladies of the Pillow Fight League. Fluffed and feathered, the most ruthless pillow fighting chicks gear up for national tryouts. Having made two stops in Brooklyn, with their next tryout scheduled to be at the upcoming SXSW, the league is currently gaining momentum.

"While the women on Pillow Fight League keep their clothes decidedly *on* and Fox News has video with one pillow pusher claiming that she doesn't think it's a "sexual thing", the rest of us can sit back and smirk quietly about videos and galleries of really cute girls bedecked in ruffle butt fighting gear all grinning and tussling and taking their aggressions out on each other with the ultimate in blunt instruments -- feather-stuffed sacks of destruction".

You have to wonder if the audience far outweighs the participants in these tryouts. If I make it to SXSW this year, I'll be sure to try and cover both sides of the experience.