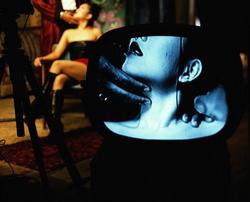 Perhaps the moneyshot shouldn't actually jump out of the TV and into your living room. The latest in HDTV clarity makes some porn stars uneasy, and it's not a case of the 'butterflies'.

"The XXX industry has gotten too graphic, even for its own tastes ... "The biggest problem is razor burn," said Stormy Daniels, an actress, writer and director. Ms. Daniels is also a skeptic. "I'm not 100 percent sure why anyone would want to see their porn in HD," she said."

To cure the blemishes, wrinkles, and cellulite that can't exist in fantasy land, many directors are taking them in to post-production for a touch-up quickie. Others have gone to more extreme measures, claiming to get more plastic surgery just to cater to HD.

"Men are all about outdoing each other, being up with the times, being cool, having the latest technology," [Ms. Daniels] said. "They're willing to sacrifice our vanity and imperfections to beat each other" to high-definition, she said."