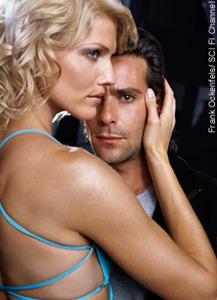 Spreading the pages of a glossy magazine as opposed to a tv screen, Battlestar Galactica star Trisha Helfer dives into Playboy. The "sexy Cylon" appears in the latest edition of Playboy and seems fairly confident that her geek squad will follow her curves to the yet-to-be-sticky pages.

"I hope people like them," Helfer told The Post of her 10-page nude pictorial shot by famed shutterbug Sante D'Orazio. "I know I do."

Despite the off-screen confidence, Helfer's BG on-screen character has started to doubt her machine loyalty. It's okay Trisha, you already have a following from geeks and humans alike.