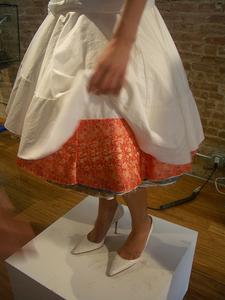 Replacing fashion chic with fashion geek, Angel Chang showcases her line up for Spring 2007. The Fashion Tech show was hosted earlier in New York to display the latest in integrating technology with fashion. Aiming to not be just another cliche', Chang opts to create stylish and realistic applications of wearable technology.

"Fashion designer Angel Chang collaborated with technologists and artists to create the next step in fashion, what we've all been waiting for -- the exploration with technology. From special inks that change color or appear/dissappear with heat or sunlight to stylized iPod jackets, Angel's collection wasn't about gimmicky technology, it was beautiful fashion with function and new twists."

Pictured: The charmeuse borders of this 5-layer skirt contain a series of hidden 3-D images. A series of single image random dot stereograms (SIRDs) showing shapes of American weapons we see everyday on the news.