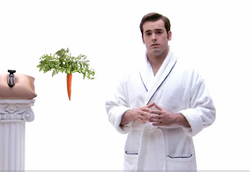 Tuesday's "The Intricacies of a Great Viral or Word-of-Mouth Marketing Program" session provided an array of case studies from the client's perspective. The panel consisted of various speakers who provided insight to how a client views a viral or word-of-mouth campaign. With a bit of plugging for WOMMA out of the way, the session began to take form.
Perhaps one of the more well-known viral campaigns presented was that of the Philips Shave Everywhere site that launched to an audience of 1.7+ million viewers to date. Zdenek Kratky, a Brand Manager for Philips Norelco, explained that the project was put in a position where they needed to rely on WOM because of a low budget. They spent one year researching and developing this campaign. Despite listing sales goals in the project's objective, Philips decided to leverage organic word-of-mouth to influence their target audience. Once Kratky presented the site for the session attendees, it was easy to hear why this campaign was a success through the waves of giggles in the room.
Next up was Jason Woodmansee, a VP at Digitaria, who started off by stating "I'm going to talk about a different kind of balls... golf balls." Woodmansee faced a different challenge: How do you enter the market place with a dominent player? He proposed that you do the opposite. By getting the product into influencers' hands and creating brand ambassadors, you're able to build off of that established foundation for a more traditional marketing campaign. The idea of using viral and WOM as a flagship for a marketing campaign has actually been a common one throughout the many sessions at ad:tech this year.
Finally, Gary Spangler from DuPont stated that every brand and company can do viral and WOM. A bit skeptical to that opening statement, I listened more. Spangler is in the manufacturing industry, an industry that is typically under-represented when it comes to brand presence. Throughout his presentation, Spangler seemed a bit untrusting of agencies, stating that they can easily ruin brands if the client doesn't go to them with a game plan and keep them on a leash in so many words. I found it quite interesting that he was open about his skepticism of most agencies while at the same time speaking at an advertising conference. While Spangler laid out the basic framework for WOM, he didn't dive into the "how" or the execution. In fact, there seemed to be a significant link missing in all of the cases studies, as they jumped from the problem to results.
I asked, "Do you feel that you're "stretching it" as a client to tie sales objectives to a viral campaign?" While all of the panelists stated that they didn't let sales objectives drive a viral campaign, I found it quite interesting that when it came time to present results, that they were all in dollar signs. Overall, the impression gained was that brands are treating viral marketing as a pilot still. In these early stages, the panel as well as other brands out there present results in sales. This unit of measure is not dynamic or in depth for results of engagement. While many brands are talking a lot about true engagement and intricacy of viral and WOM, their results and standard measurements do not reflect it. In essence, brands are still skimming the surface of interactive richness possibilities.