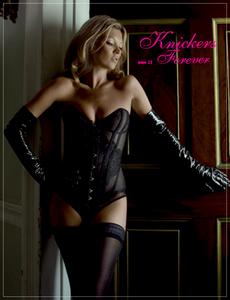 Seemingly the best show that Kate Moss puts on for everyone is having a cigarette in a lacey pair of panties. Putting that to shame, Moss has reportedly threatened to walk out on a lingerie deal. The other party should take the white-nosed model's threats seriously, as she apparently also pulled the plug on a children's cancer charity. Like garlic to vampires, non-smoking sections seem to be the best way to fend off smug models.
The lingerie company, one of my personal favorites, Agent Provocateur seems to have been messing around in someone else's knicker drawer. Known for asking for 'punishment', perhaps Moss may be better off threatening an over-the-knee tactic.
"Moss reportedly is furious that the company's owner, Serena Rees, recently ran off with The Clash bassist Paul Simonon, who happens to be married to one of Moss's friends."